When
Helward
Mann

leaves

town

he

has no

reason

to

think

that

the world

beyond

is

not

altoghether alien

.

But in fact

,

despite

all he has always been told

, there is

evidence

that

slowly

contradict

all

his convictions

.

As

he

grows

his

work experience

outside the

city

,

he is

forced

in his struggle

for

survival
to accept
the rationale.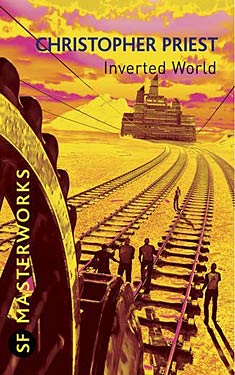 As a member of one of the guilds that manages to move the city on rails,
plowing

a wasteland

full

of

hostile

tribes he lays the rails

in front

of

the city and

carefully

removes them

in its wake

.

The rivers

and mountains

are a

virtually insurmountable obstacle to

the

technical

ingenuity

of

the guilds

but

if

it

stops

moving, the

city

will

fall

in the gravitational field

that

has

become

destructive

of all life

on

Earth

.

So, the only

alternative to

death is

progress

.
This is a classic science fiction book, one in which the laws of physics may seem a little strained but are explained at the end. Mysteries unraveled keep the reader interested throughout the book. Everything is centered at first in the moving city: how, why, when, and the Guild society within. Weird and exciting in the middle, it ends with a more realistic note. This is a cold book, relationships and characters are even chilly but in spite of this, that makes a bit difficult to become involved with the characters and their lives, its utterly fascinating and keeps you guessing about the nature of reality until the end.
awards: BSFA
winner
, 1974,
Hugo Award nominee, 1975
Christopher Priest was born in Cheshire, England. He began writing soon after leaving school and has been a full-time freelance writer since 1968. He has published eleven novels, four short story collections and a number of other books, including critical works, biographies, novelizations and children's non-fiction.
His most recently published novel
The Separation
won both the Arthur C. Clarke Award and the BSFA Award. In 1996 Priest won the James Tait Black Memorial Prize for his novel
The Prestige
. He has been nominated four times for the Hugo award. He has won several awards abroad, including the Kurd Lasswitz Award (Germany), the Eurocon Award (Yugoslavia), the Ditmar Award (Australia), and Le Grand Prix de L'Imaginaire (France). In 2001 he was awarded the Prix Utopia (France) for lifetime achievement.
He is Vice-President of the H. G. Wells Society.
He is married to the writer Leigh Kennedy. They live in Hastings, England, with their twin adult children, Elizabeth and Simon.