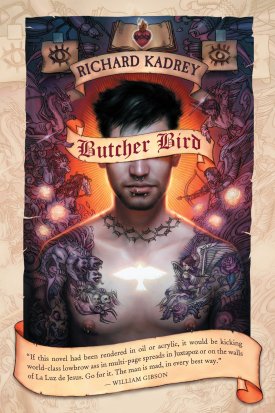 Description:
Spyder Lee is a happy man who lives in San Francisco and owns a tattoo shop. One night an angry demon tries to bite his head off before he's saved by a stranger. The demon infected Spyder with something awful - the truth. He can suddenly see the world as it really is: full of angels and demons and monsters and monster-hunters. A world full of black magic and mysteries. These are the Dominions, parallel worlds full of wonder, beauty and horror. The Black Clerks, infinitely old and infinitely powerful beings whose job it is to keep the Dominions in balance, seem to have new interests and a whole new agenda. Dropped into the middle of a conflict between the Black Clerks and other forces he doesn't fully understand, Spyder finds himself looking for a magic book with the blind swordswoman who saved him. Their journey will take them from deserts to lush palaces, to underground caverns, to the heart of Hell itself.

This book, that you can also find by the name "Blind Shrike", is really great dark fantasy. My favourite Kadrey's book so far and the first I've really liked a lot. With a writing firmly rooted in Judeo-Christian theology of angels and devils but a vision of these absolutely transversal with Lucifer described as a kind, loyal and charming character. The prose is visceral and the characters realistic people you feel you can care about. You'll find here a lot of heaven, hell, and different spheres of existence highly imaginative and very well developed and a couple of very interesting and innovative cosmogonies. All sorts of weird supernatural denizens, maybe a little too "smartass" at times, interpersed with normal living and weapon wielding maniacs and manically evil bad things.

Pretty entertaining stuff, all along. And this one has a lyric quality and a "heart" that I found Sand Slim missed. And it's full of clever ideas and original ones. And witty dialogues and touching characters. Yes, I think I've liked this one. And don't forget you can read it for free so...

You can download Richard Kadrey's novel
Butcher Bird
:
PDF
–
HTML
–
Rich Text Format
–
Plucker
–
Mobipocket
–
Enhanced MobiPocket
*